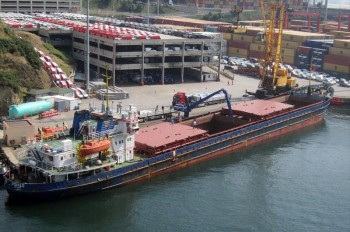 International shipping is a highly competitive industry that provides an essential service for Society through the economic transportation of goods, commodities and passengers. Because there are so many stakeholders, it is essential to have agreed and shared rules.
For this same - Shipping is a capital-intensive industry and companies need to finance their operations.
we as agent and broker commenced our activities in shipping in port of Amirabad-Iran to share in the shipping and submit our services to our good customers Of course; with our experience in the shipping and considering customer's necessitates move / gain globally .
in this wise ; we came to know to having investments , who might even guard our own pension funds, need a rule-based system to protect our risks.
Similarly the carriage of cargo depends upon well-tested contracts and expertise, which in turn are used to determine the outcome of a good service in Caspian sea's ports.
There is an understanding that the seas are used for many purposes, which include exploration, fishing, fish farming and leisure activities.
The littoral is used for economic activities such as tourism and can also contain sensitive ecological habitats.
How then is it possible to satisfy the needs of society for cheap efficient transport with the demands for safety and environmental protection. The answer of course lies in the complex regulatory mechanisms, which have evolved over centuries.
if laws stayed the same it would be possible to provide training in their use, but the situation is much more dynamic with new developments taking place at an increasing pace. so ; we tried to update our self with international rules in shipping to satisfy our customers as well as following the international /local rules in ports of Caspian sea .
so the interpretation of specific clauses in the region of Caspian sea may lack precise definition of customers.
Operators, however, have to manage and run their ships and ship masters in particular
Have to be aware of their legal obligations especially keeping customers as we do in ports of Caspian sea as we may think the task is formidable but practice makes perfect as we did so many years in ports .
The time has surely come in shipping when the burden of regulations should be lifted and turned into a similar culture with accepted industry codes of practice
that will offer real support. If industry guidelines are ignored this would lead bad owners
; Operators and agents in to courts of law through failing to operate within an accepted "Duty of Care".
The bad owner or manager and agent would then land up where they belong, Brought to the courts by charterer, cargo owner, flag state, underwriter or even by their own staff; so considering all ; we tried to take care of our customers and act / submit 24 Hours service same as "room radio "in ports of Caspian Sea.